Fruit Tree Orchard
This spring we planted 14 Bare-root Fruit Trees at the McFarland Community Garden.  All varieties were chosen for their disease-resistant properties.  Our orchard is comprised of 6 apple, 4 pear, and 4 sour cherry trees.  It will be a few years before we can harvest a steady crop from them.  In the meantime, we will give them lots of TLC so they are happy in their new home.  Thank you to Jung's Garden Center on Northport Drive in Madison for all of the assistance with procuring high quality trees!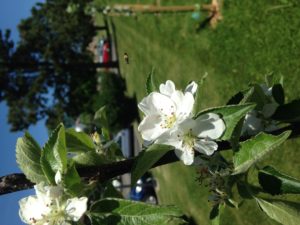 Rain Barrels
A big THANK YOU to Girl Scout Troop 1022, and Troop Leader (and Community Gardener!) Amanda Wegner for our new rain barrels.  The Girl Scouts completed this rain barrel construction project as part of their Bridging process from Brownies to Juniors.  The girls, with the help of troop leaders and parent volunteers, painted the rain barrels, before installing the finished barrels, along with gutters and downspouts on our Garden Shed.  Hoses are attached so that gardeners can easily access any rain water that is collected to use in plots.
Raised Bed Garden
We received additional requests for raised garden beds this spring, so in order to accommodate more gardeners, we devoted funds for our seventh raised garden bed for the Adaptive Garden.  Thank you to Dale Hanson, woodworker extraordinaire, who constructed this raised bed onsite.  We are also incredibly grateful to Slinde Trucking for donating all of the top soil for this raised bed.
(All the numbers have been mixed up, but this is actually the 7th bed that has been constructed.  We will rearrange the numbers so they make more sense next spring!)
COMPLETE COMPOST MAKEOVER!!
This spring, we embarked on a total makeover of our composting area.  Thanks to a generous donation of some gently used fence panels from Prairie Stone Commons in McFarland, we were able to re-purpose the fencing for a well-organized compost bay system.  There are separate sections for: composted animal manure; straw bales; and "cooking" compost made from garden waste.  This project was completed with the help of many individuals.  In particular, we are very grateful for the leadership of Myra Kemna; the Village of McFarland Parks Department for the post hole digging and grading; Theresa Anderson and Prairie Stone Commons for the donation; and Dale Hanson for help transporting materials to the garden.