Katie Gletty-Syoen, Garden Coordinator & 4-H Youth Garden Leader:  Katie planted the seed that has grown into the McFarland Community Garden back in 2011.  Katie manages garden registration and oversees general operations.  Katie is also a Horticulture Project Leader for the McFarland Sparks 4-H Club, and manages the 4-H Youth Garden design, maintenance, and programming in conjunction with club members and parents.
Bill Stoneman, Grounds & Organic Guidance: Bill has worked as a professional in the Organic Horticulture industry, and has a wealth of knowledge to share with gardeners.  Bill will be monitoring garden plots, coordinating grass mowing schedule, and managing Garden Monitors.
Myra Kemna, Compost Queen:  Myra is a certified Master Composter via the UW Dane County Extension.  She coordinates the management of the McFarland Community Garden compost piles, and arranges for delivery of aged livestock compost for use in the gardens.  Myra has been gardening with the McFarland Community Garden since our inception.
Cyndy White, School Gardens:  Cyndy is the Environmental Education Coordinator for grades K–5 at the McFarland School District.  Cyndy coordinates the School Gardens, and leads the Three Sisters Legacy Project with all the 1st and 2nd grade classes, bringing over 200 students to the McFarland Community Garden each season.  Cyndy also develops summer programs through MRAP McFarland Recreation, Activities and Play for school age children at the garden.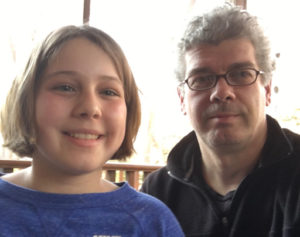 John and Izzie Tobin, Food Pantry Garden.  This dynamic father-daughter duo have spearheaded multiple initiatives for Food Pantry outreach.  This season John and Izzie will be developing and managing our Ron Dennis Memorial Food Pantry Garden, with all produce slated for our local McFarland Food Pantry.
Judith Adrian & Chris Ohlgren, Ornamental Gardens.  Judith and Chris have been gardening with the McFarland Community Garden since our first season, and have taken on the coordination and care of our ornamental flower beds.  The flower beds are aesthetically pleasing, and also serve to attract a variety of pollinators to our gardens.
Wendy Abel & Al Remondini, Herb Gardens.  Wendy and Al are back for their second year at the McFarland Community Garden and will be taking on the management of our two raised herb garden beds next to the central garden shed.  These beds are filled with common perennial culinary herbs, and all gardeners are welcome to partake.
Michael Andrie, Machinery & Tools.  Michael is back for his second year in the McFarland Community Garden.  He is a Small Engine Engineer at UW Madison.  He will be keeping all of our tools and small machinery (mowers, tillers, weed whips, etc) in tip top shape.  Contact Michael if you have any questions or concerns about tools or small machinery at the garden.