We have a lovely 3-bin composting system that was built by volunteers, Billy Ceelen, Ron Dennis, Todd Hubler, Bill Stoneman, and faithful guide, Master Gardener, Ed Meechun.  We were able to re-purpose 7 hardwood pallets, wire, and lengths of rebar.  Bill added some newly purchased coated chicken wire (cannot see in picture below).  The last thing we need to do is screw a reinforcing 2×4 across the top.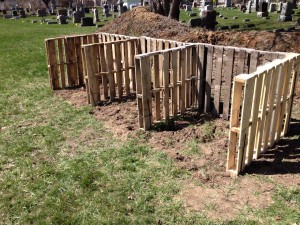 So, all we need is some good compost…
A huge THANK YOU to the folks who have donated the composted horse poop.  And THANK YOU to Sarah Rowe for organizing the transfer of goods.